President Trump releases discretionary budget proposals
President Trump released his annual budget request to Congress on Thursday, beginning the first step in the Federal funding process. While the president's budget proposal has no binding authority to the appropriations controlled and regulated by Congress, it is regarded as a detailed statement of the administration's goals. Ultimately, President Trump's first annual budget appeal, as in most presidencies, details the administrations position on the range of federal revenue and spending, particularly relative to federal agencies.
The substance provided in the president's letter to Congress detailing his budget proposals show the administration leading towards further investment in military agencies at the cost of domestic agencies, including the Department of Health and Human Services and the Department of Housing and Urban Development. As the president underscores in the letter, "the request includes an additional $30 billion for the Department of Defense (DOD) to rebuild the U.S armed forces." President Trump goes on to request "an additional $3 billion for the Department of Homeland Security (DHS) for urgent border protection activities." To fund rebuilding of the U.S armed forces, Trump proposed offsetting the costs by appealing that "Congress enact non-defense discretionary reductions of $18 billion in FY 2017, which would fully offset the amounts proposed for DHS and would offset half of the amounts proposed for DOD."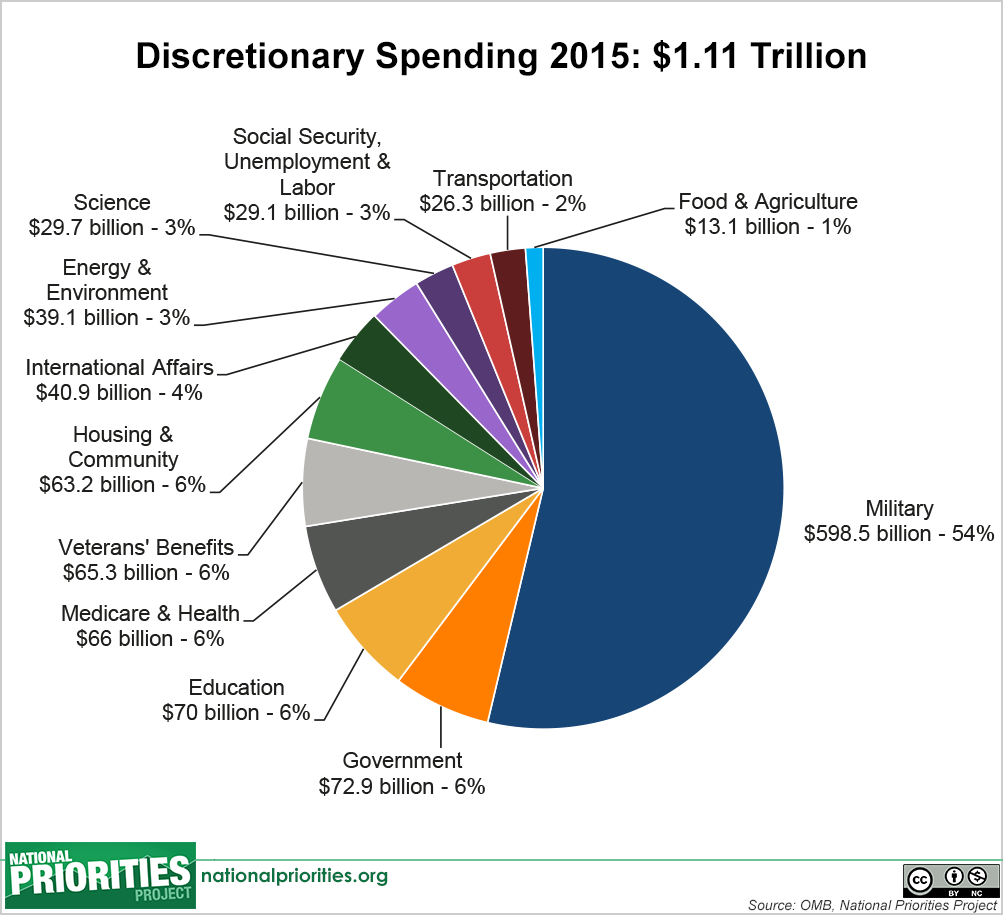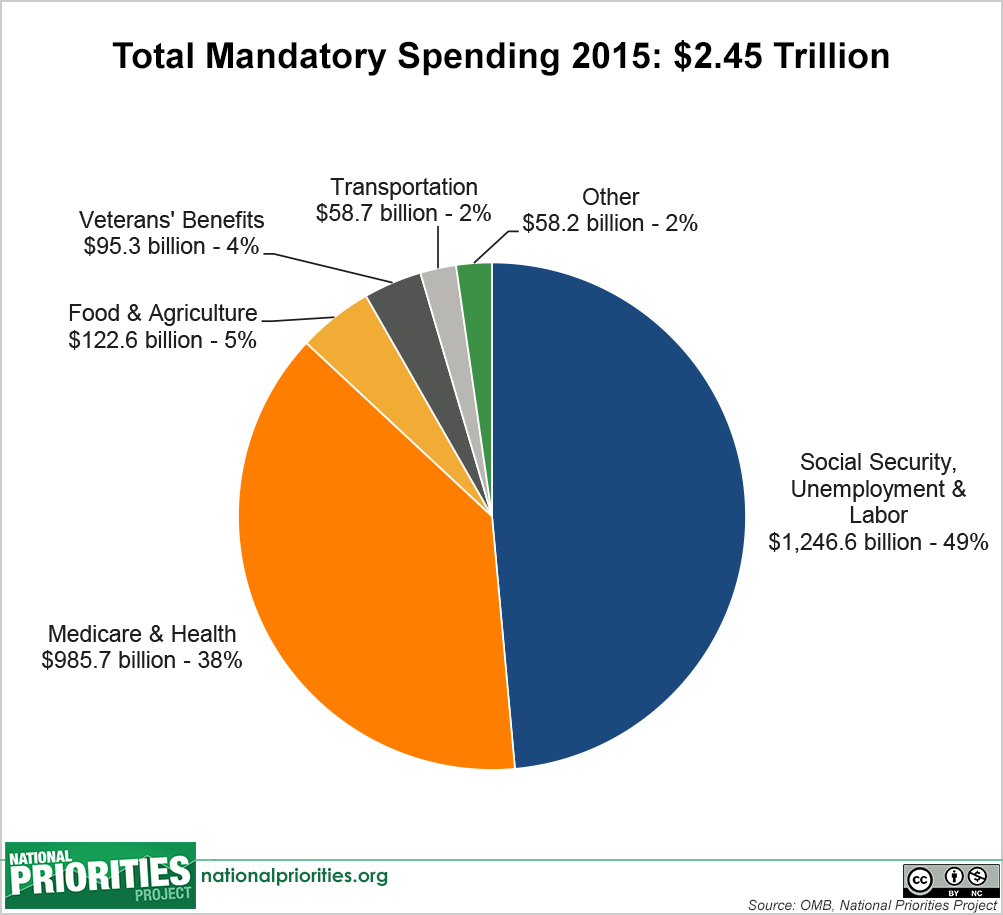 Despite the commitment of the administration to rebuild the U.S military, the discretionary budget has been predominantly contributed to military spending in previous years. For fiscal year 2015, military spending amounted to 53.71% of discretionary spending, whereas food and agriculture only amounts to 1.18%, education to 6.28%, and transportation to 2.36%, according to Office of Management and Budget Statistics. While this only accounts for discretionary spending, which only accounted for 29.34% of federal spending in FY 2015 compared to mandatory spending's 64.63%, the majority of mandatory spending is contributed to earned benefits programs such as medicare, medicaid, and social security.
In defiance of this, the military remains the largest recipient of discretionary allocated annually, as well as the third largest area of total spending behind earned benefits programs. Concurrently, the U.S military has consistently ranked as the most affluent military globally, with higher investment in military than the next seven highest spenders combined. At the same time the majority of competitors to the U.S in military expenditure are known as top business and military partners to the United States, namely Saudi Arabia, The United Kingdom, France, and Japan. In spite of this, President Trump seeks to increase military expenditure at the cost of federal agencies focused on domestic issues, with a $30 billion increase to the Department of Defense. Among the most resource consuming areas necessitating the increase in DOD funding, OMB Director Mick Mulvaney recommends in his letter, "$13.5 billion for procurement and modernization, including additional Army Apache and Blackhawk helicopters, F-35 and F/A-18 fighter aircraft, tactical missiles, unmanned aircraft systems, and Terminal High Altitude Area Defense interceptors, and the DDG-51 destroyer that the Congress partially funded in FY 2016."
In defending his downsizing of funding for all Federal agencies excluding the Department of Veterans Affairs, Department of Defense, and Department of Homeland Security, were referred to by Mulvaney as 'duplicative' of programs already fulfilled by The Department of Housing and Urban Development. However, the President's proposal still outlines a 13% cut to the HUD. The 13% cut corresponds with the elimination of federal funding for the Community Development Block Grant program, which subsidizes urban renewal projects, such as natural disaster recovery efforts. The aforementioned program funded the Lafitte Greenway in New Orleans as well as Hurricane Sandy recovery efforts. Also primed for elimination are a multitude of programs which help redevelop infrastructure in low income neighborhoods and encourage and assist with home ownership. Some of those programs are the HOME Investments Partnership Program, the Choice Neighborhood programs, and the Self Help Ownership Opportunity Program. A 21% cut to the Labor Department originates mainly from the closing of poor performing centers with Job Corps, a job training program for unemployed youth.
The proposed retrenching also details termination of grants which assist non profit and public agencies to fund safety and health training. The President's 4% cut to the Treasury Department facilitates the purging of grants for Community Development Financial Institutions, which provide social welfare programs in economically distressed neighborhoods. Furthermore, Trump's 29% cut to the State Department, the greatest department cut exhibited in Trump's discretionary budget proposals, includes slashing of foreign aid and monetary U.N contributions. The Global Climate Initiative and the U.N affiliated Green Climate Fund, programs which assist in impoverished developing countries investing in renewable energy, would each be eliminated.
Besides cutting funding to many federal agencies, the President's budget proposals also outline eliminating federal endowments to the Corporation of Public Broadcasting. Defending the proposition, OMB director Mick Mulvaney effectuated an interview on MSNBC, proclaiming "Can we really continue to ask a coal miner in West Virginia or a single mom in Detroit to pay for these programs? The answer is no. We can ask them to pay for defense and we will, but we can't ask them to continue to pay for the Corporation of Public Broadcasting." CPB President and CEO Patricia Harrison responded to Mulvaney, saying "There is no viable substitute for Federal funding that ensures Americans have universal access to public media's education and informational programming and services." Harrison continued to note public media as one of "America's best investments, costing approximately $1.35 per citizen per year."
Harrison's proclamation on the cost of public media is accurate, CPB received $445 million in federal funding in fiscal year 2016. The majority of CPB funding goes directly to local radio and TV channels, public broadcasting, in contrast to commercial broadcasting, does not fund its continuation through selling of advertisement slots to private interests, but rather attempts to avoid a perverse incentive structure by funding itself from government grants and non profit endowments. Local stations have particular reliance on federal subventions, as these stations often fund themselves from non profit donors which match governmental subventions. The National Endowment for Art's, colloquially known as the NEA, is a section of the CPB in which government expenditure is reported to support a $730 billion arts and culture industry, 4.8 million jobs, and a $26 billion trade surplus for the nation, according to a study conducted by Americans for the Art's.